Many Poor UPSC aspirants were waiting for UPSC course by Khan GS Official and finally UPSC course has been launched by Khan GS Official and at very reasonable price.
UPSC course ( Pre + Mains) Launched by Khan GS Official.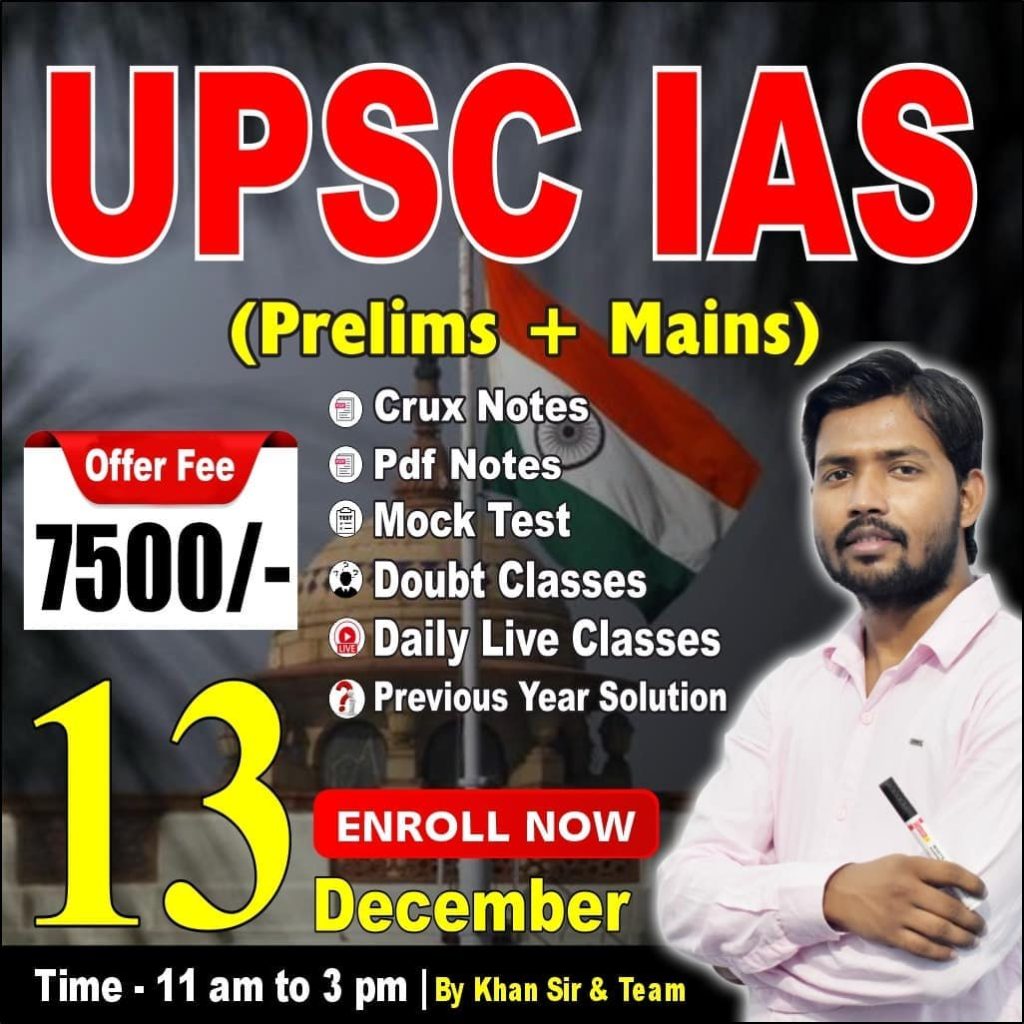 UPSC course by Khan sir – This moment is very special for those aspirants who want to fight for UPSC exam in upcoming days.
Let's see, UPSC course details by Khan sir.
Course is starting from 13 December.
Course offer fee is Rs 7500 only.
Course duration will be – 1 Year.
Classes Time – 11 Am to 3 PM
Course Successfully Launched by – Khan sir and their Teammates.
Additional benefits in Upsc Course.
Crux Notes
PDF Notes
Free Mock tests
Free Doubt classes
Daily Live Classes
Previous year Paper Solutions
Steps to Purchase UPSC course by Khan GS Official in 2023.
To buy Upsc Course Launched by Khan GS Official.
Step 1 – You have to install Khan GS Official App in Android phone from Play Store. After that Register yourself on Khan GS Official App by entering Your personal information.
Step 2 – Select UPSC course. You will Sell details of your Selected Course.
Step 3 – Now, Click on Buy and You will notice offers & Coupon option. If you have Coupon then enter Coupon field and don't forget to click on Apply button.
Step -4 Now, Click on Pay Now, Confirm your Payment Using UPI, Debit card and net banking. You can choose any payment method as your convenience and Finally, Click on Pay Now. You will see Payment confirmation page. Your payment has been done.
Your UPSC course will be listed after sometime under My batch section.
Hope you, You will have helpfull Information about UPSC course by Khan GS Official.
Hi , मैं मोहिनी एक टेक लवर और Latest & Updated जानकारी सीखने और सिखाने में अच्छा लगता है । मैने DCA, ADCA किया हैं । अभी मैं स्नातक ( Computer Science ) पार्ट 1 में हूं ।